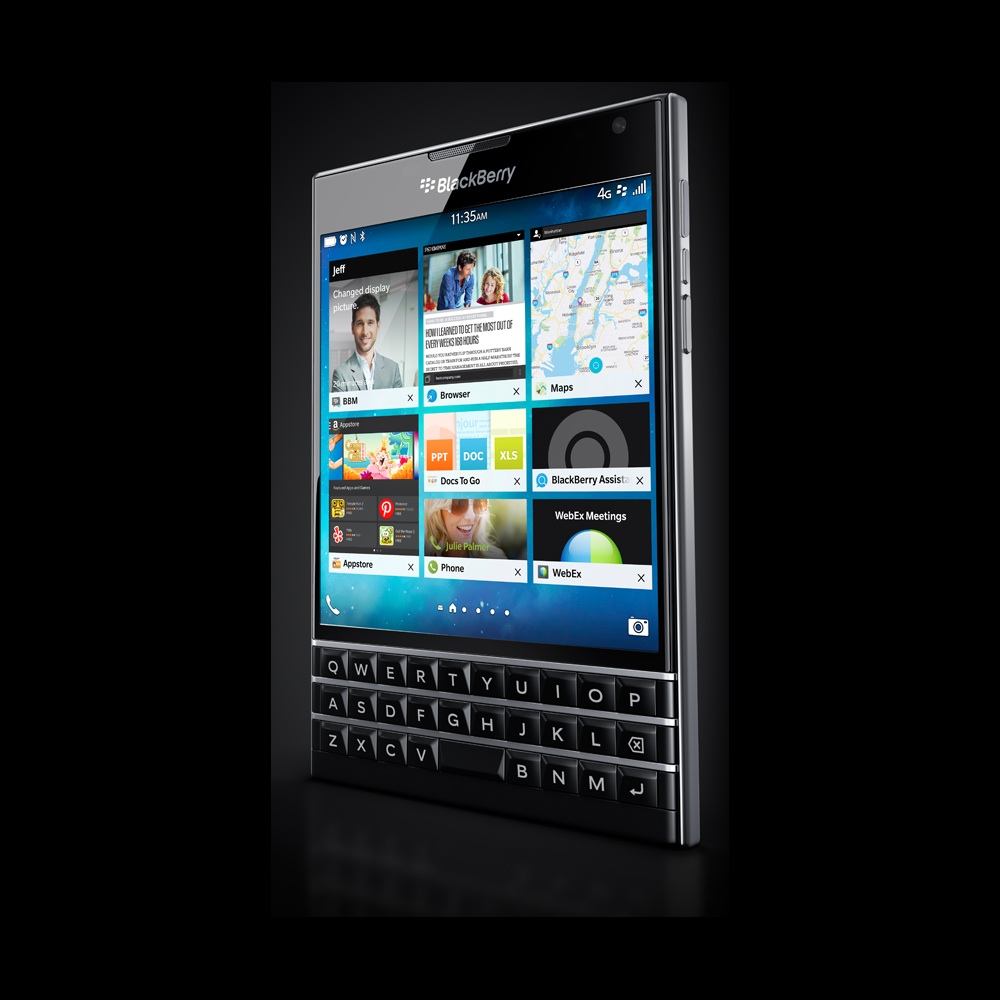 If there is one criticism of today's Smart Phones that I hear the most often, it's the dearth of physical keyboards.
For those who began typing on phones when BlackBerry and Palm ruled mobile, the move to pure touchscreen design has been a mixed blessing. They're responsive and natural, but nothing lets you crank out an email at top speed like those trusty QWERTY keys.
BlackBerry, which never fully went away, now has something new for that crowd: the BlackBerry Passport, a huge phone with a big screen and the most sophisticated keyboard you've ever seen on a mobile device.
Big and bizarre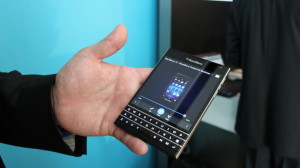 The Passport isn't just big at 3.6 inches wide — it's weirdly big, with a square display perched atop a few strips of keys. There really isn't any other smartphone like it. BlackBerry says it picked this size for two reasons: One, the display can display 60 characters per line, which is supposedly very good for reading. And two, it's actually the exact same size as a real passport. I guess that's a feature.
BlackBerry's latest phone isn't just a curious-looking face, though: This is BlackBerry's new flagship smartphone, powered by a speedy 2.2GHz quad-core Snapdragon 801 processor and 3GB of RAM with 32GB for storage (there's a microSD card slot if you want more). The 4.5-inch screen is 1,440 x 1,440, which makes for an impressive (and ultra-sharp) 453 pixels per inch (ppi).
The Passport's keyboard is different from all previous BlackBerry phones
The Passport's keyboard is different from all previous BlackBerry phones: It's still QWERTY, but it's just the basics — the period and symbol keys are missing. Where did they go? BlackBerry moved them to the display, and they appear whenever you start typing.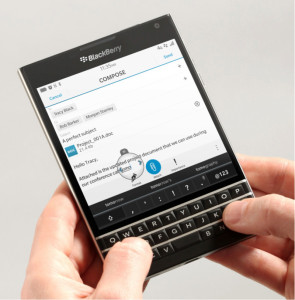 The big advantage here is the keys are adaptable — they can change depending on whatever you're doing. You'll see different keys when you're filling out an email field, for instance, than when you're writing body text.
Relocating the keys also keeps the keyboard as small as possible, maximizing your screen real estate. It's a good idea, although moving your fingers up for punctuation takes some getting used to. I also found it takes practice to ensure your fingers are targeting the right keys… my thumbs kept hitting the row below the one I was aiming for.
If the keyboard has a killer feature, though, it's the fact that it's also a touchpad.
If the keyboard has a killer feature, though, it's the fact that it's also a touchpad. BlackBerry built a capacitive layer underneath the keyboard, making all the keys touch-sensitive. That means the Passport can actually take advantage of the cool"swipe-up-quickly-type-a-word" suggestions on phones based on BlackBerry 10 software (the Passport runs BlackBerry 10.3).
Once you get past the strange form factor and the unusual way the keyboard works, you can find the powerful device beneath those first impressions. The touchpad can improve your experience in some subtle ways; you don't know how much screen space your fingers cover while scrolling until they're gone.
I find it hard to decide if it's a better experience to type on the Passport than its predecessor, the BlackBerry Q10. While the Q10 was closer to classic BlackBerry Curves of old and was easier to transition to, the Passport's keyboard is analogous to a major software upgrade. It changes where things are and how some stuff works, but once you get used to it, you enjoy the benefits.
The big one is simplicity. After a couple days' use, your fingers start to stab at the display for punctuation and special characters, and the benefits of the stripped-down keyboard really take hold. Not only does it leave more room for screen, but your mental picture of the keys is that much cleaner.
Camera upgrade
The Passport's camera is great. It's a 13-megapixel sensor that focuses quickly and even includes optical image stabilization (considering the phone weighs 6.9 ounces, it had better). The images I took were very good — comparable with pics I've captured with the iPhone 6 or HTC One M8.
BlackBerry included some extra camera features this time around. Its famoustime-shifting ability — where you can rewind or move forward in time to find the best smile on a person's face — is still there, but now you can save those pics for later and retain the time-shift ability. There's also a panorama mode, a timer for selfies and a tip bubble that will recommend what mode to use for a particular scene.
The problem with BlackBerry phones — and the big reason their recent ones couldn't get any traction — is that they can't run that many apps. That's not so bad on the Passport because it has access to Amazon's Appstore. You may not be able to find Minecraft in BlackBerry World, but it's waiting for you over on Amazon. That's cool, although Amazon apps won't run like they're native. To share anything from them, for instance, you'll have to resort to copying and pasting.
Besides the keyboard and wide screen, 
the other big thing the Passport has going for it is battery life
the other big thing the Passport has going for it is battery life. The battery spec is a massive 3,450 milliamp-hours, and BlackBerry rates it to last 25 hours with typical use. I found that to be conservative — I forgot to charge it overnight once, but it powered through most of a second day no problem.
The Passport is the first device to work with BlackBerry Blend, which is how your BlackBerry talks to your computer. Similar to Apple's Continuity, and bridge solutions from Motorola and Samsung, Blend lets you see texts, missed calls and other notifications on your bigger screen. You can't take calls yet, but BlackBerry says it's working on it.
Too weird
BlackBerry put a lot of thought and effort into the Passport, and it shows. Still, there's no escaping the fact that this is a very strange phone, and an unwieldy one at that. Even power users will need to rethink how they type on the keyboard to take full advantage of it. If you have that patience, the Passport has to goods to level up your BlackBerry experience. For everyone else, though, it's just too bizarre to take seriously.