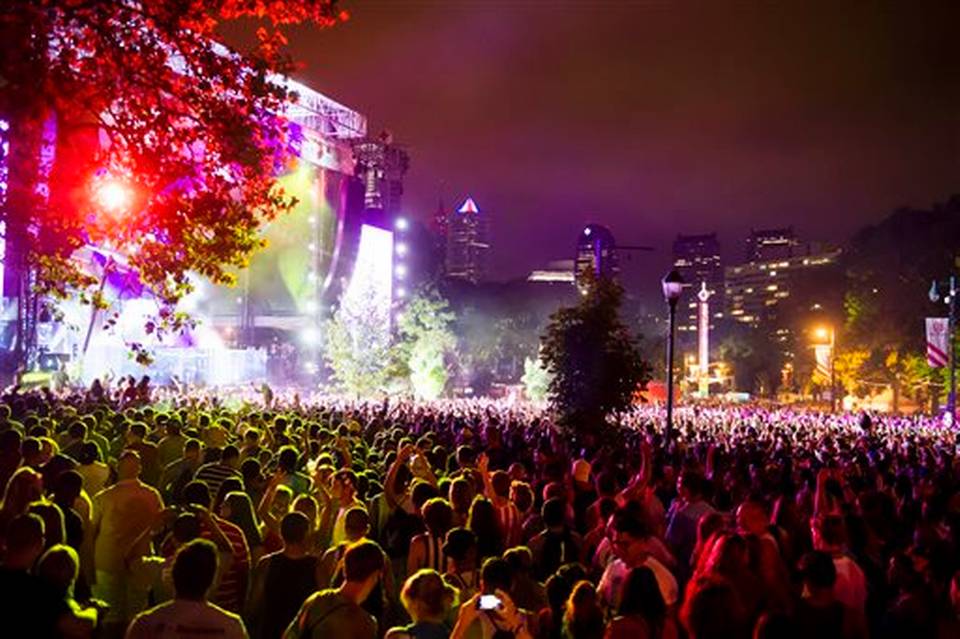 By Steve Baltin
At a festival like Made In America, where Kanye West and Imagine Dragons are headliners, and Afrojack, Steve Aoki, Iggy Azaela, Rita Ora, Kendrick Lamar are the big draws, Cypress Hill are the token throwback act. But for the hip-hop group, which released their first album in 1991, being the odd men out on the bill suits them fine.
"That's what it's been about throughout our career. Some people thought we maybe didn't fit in the beginning and we made ourselves fit and tried to steal the show from everybody. We won over some fans in the process and that's what our mentality is when we do these festivals," B-Real (aka Louise Freese) told Billboard backstage at the festival in Los Angeles on Sunday. "We know that there are different fans out there that may not know who the hell Cypress Hill is, but by the end of that day they're gonna know. It's beautiful to see when people who don't know you are jumping the fuck up and down and cheering to your shit, even though they don't know you."
Made in America Day 2 Highlights: Rita Ora, John Mayer, Kanye West & More
Some of the L.A. group's favorite moments on the road come from seeing the bridging of generations at Cypress shows. "You see guys, the dude that brings their 14, 15-year-old kid to see Cypress Hill for the first time," Sen Dog (real name: Senen Reyes) says. "They're witnessing the same music that their dad did. It's a special feeling to know the band has lasted generations to where teenagers are able to see Cypress Hill today the same way that their pops saw it 27 years ago. There's a connection there and it's based on Cypress Hill music."
With new fans cropping up, the guys in Cypress are excited to be working on their first new album since 2010's Rise Up, which found B-Real working as both producer and executive producer. This upcoming as-yet-untitled album, due in the spring of 2015, finds longtime producer DJ Muggs (aka Lawrence Muggerud) back at the helm (he did two tracks only on Rise Up).
"It's definitely a different sound, but it definitely has that Cypress Hill flavor. We haven't worked with Muggs for quite some time and this is the first album coming back into his production style and so far it's been pretty aggressive songs here and there and pretty tripped-out songs psychedelic-style," explains B-Real. "It's gonna be different, but I know that Cypress fans are gonna love that shit. Some new fans might dig it too."
The last time Muggs fully produced a Cypress album was 2004's Til Death Do Us Part. In the intervening decade, both parties have expanded their repertoire and are putting those new skills to use on the new album.
Watch Cypress Hill's B-Real Turn Pothead for Ice-Bucket Challenge
"Muggs has got so many tricks up his sleeve in the studio. So the track could start off one way and it'll end up a whole different way, so you can't get used to it when you're recording it. And as far as Sen Dog and myself we've managed to get in front of a lot of different music in all this time. We've had a chance to write to so many different things that we can pretty much adapt to anything that somebody gives to us as productions. We can come up with something cool," B-Real said. "But with Muggs it's a little different because that's somebody we have history with, we have a connection with, we have chemistry with, so when it comes together it's something different then when you work with somebody else. There's a little bit more to it I think."
The band has so much trust in Muggs that B-Real says the longtime producer changes the songs as he sees fit in production. "I don't necessarily hear [the songs] after I record them because I know they are gonna change several times before the end. So I don't marry myself to any of them," he said. "Muggs does the magic to them and at the end we all listen to it and we're like, 'Yes.'"