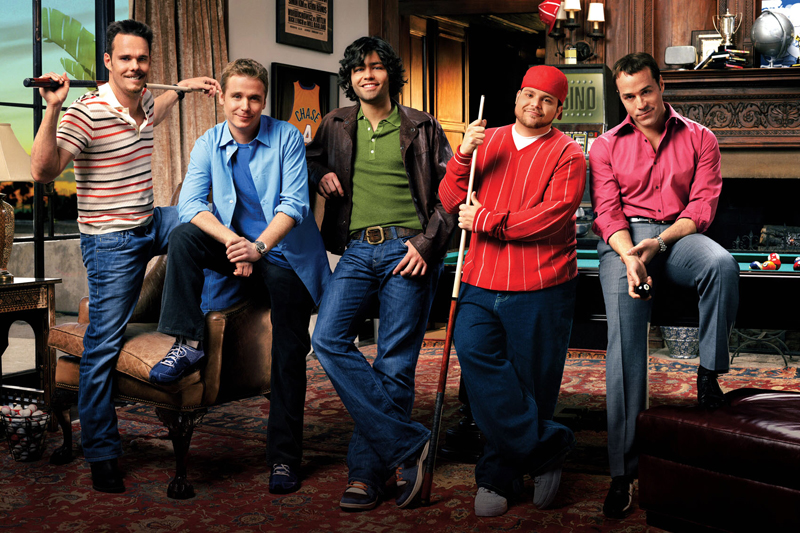 There are many ways to stand out in a bar setting — not all of them good. During a recent visit to a super-trendy bar in the East Village of New York City, I noticed that everyone at the bar looked relatively hip and well-dressed, except for one poor soul. This guy wore an argyle sweater vest with a striped dress-shirt and khakis. If he were going for the "Emo" look or playing shuffleboard with his 80-year-old grandfather, that might have been okay. Sadly, this was not the case, and a part of me felt bad for him. He was, at worst, an average-looking guy, but he was dressed terribly for a night out in New York City. 

Dressing properly and stylishly for a night out can sometimes be challenging. You want to stand out from others for your impeccable style, not because of inappropriate attire. In the spirit of the plight of the poor guy in the sweater vest, I wish to take this opportunity to assist anyone who needs help dressing for a night on the town. By following a few simple guidelines, you can avoid embarrassment and draw the right kind of attention to yourself.
know your environment
You usually know where you're going before getting dressed. Consider three factors in assessing your attire choices.


1- Geographical location
Different cities have different general atmospheres. You can get away with a T-shirt in virtually any club in Miami, while few clubs in New York City consider T-shirts appropriate attire. In your hometown, you probably have a good idea of the kind of setting to expect, but when visiting a city foreign to you, ask the locals about the nightlife's ambiance. 


2- Atmosphere of destination
If you know your evening's destination(s), you are ahead of the game. Ask friends who have been there before what to expect, or take five minutes to use the wonders of the Internet to look for descriptions of the destination(s). Websites like Citysearch or Shecky's (for info on NYC, LA, Boston, and Chicago) provide helpful details about restaurants, bars and clubs.


3- Weather
Finally, use the Internet one more time to see what Mother Nature has in store. If the forecast mentions cold weather, dress warmly. You do not want to be the guy in the corner shivering and rubbing his runny nose. If the forecast calls for rain, either bring a pocket-sized umbrella or wear a water-resistant jacket and shoes that can get a little wet without being ruined. 

A visible waistline without a belt? Oh, the horror…
from the bottom up
Here are some surefire recommendations for all aspects of your wardrobe when going out.


Shoes
A man's shoes set him apart from the crowd. Shoes allow you to express your character better than any other article of clothing. For starters, never wear athletic sneakers. Some casual establishments will allow you to get away with trendier sneakers, by designers such as Kenneth Cole or Diesel. Good-looking shoes that seem too casual for a wedding are always your safest bet. Sandals are for the beach. 

Best bet for any venue: Sketchers "Scanner – Examiner" (black)


Socks
Socks are easy. Your socks should have simple, solid colors or very mild patterns. I suggest staying away from pastels, but instead focus on neutral colors such as black, brown, navy blue, or gray. They should match your shirt, pants or shoes. 

Best bet for any venue: Tommy Hilfiger "Signature Sock" (black)


Pants
If your venue is casual, stylish designer jeans might be appropriate. In less casual circumstances, flat-front pants seem the safest. Avoid pleats. Sometimes jeans will be too casual, but pants are rarely too formal, unless you vastly misjudge your destination. Unless you plan on going to a bar on the beach, leave your shorts at home. 

Best bet for any venue: DKNY Men's Black Stretch Gabardine Pant 


Belt
If the waistline of your pants will be showing, you should wear a belt. If you tuck your shirt in, then you absolutely need one. If you don't tuck your shirt in and your waistline isn't visible, wearing a belt is optional. Of course, if you need a belt so that your pants stay up, you should probably wear one. Remember: Crack kills. A final tip — always match your belt to your shoes. 

Best bet for any venue: Kenneth Cole "Valasko" (black) 

Wow them with your outerwear…
Shirt
When it comes to your shirt, you probably have more options than any other article of clothing. I would generally advise against a T-shirt, unless a sufficiently casual destination awaits. Your next option consists of a shirt with buttons. This includes short-sleeve shirts, which are acceptable at not-too-swanky destinations during late spring or summer. The long-sleeve, button-down shirt is your safest option. Even at most casual destinations, a long-sleeve shirt will not seem too formal. Sweaters can look good at less formal venues, but stick to either solids or very mild patterns. 

As far as general tips for color, if you have a dark complexion, you should not be afraid of bright colors or pastels. If you can pull them off, they will set you apart from the pack of blue and black shirts. Not sure what you can pull off? Go shopping with a friend whose fashion sense you respect. Ask your friend for feedback regarding potential wardrobe additions. 

Best bet for any venue: Kenneth Cole Floral-Jacquard French Cuff Shirt


Outerwear
When it comes to outerwear, check the weather. You should have an overcoat for more formal spots, and a jacket for less formal spots. Some formal venues require a sports coat. If such a possibility exists, call ahead and check. The same goes for a tie, which would otherwise be extraneous. Other than to keep your neck warm in conjunction with a coat, do not wear a scarf unless you are auditioning for a part in a stage version of The Birdcage.

Best bet for any venue: Marc New York Black Lambskin Zip Front Jacket
enjoy your evening
By accurately anticipating the atmosphere of your destination, you can follow the rules above and feel comfortable with your attire. As for standing out from the pack, that comes from developing your own personal style, which begins by learning what you can and cannot pull off. 

As long as you stay within the bounds of the general principles outlined above, you can safely avoid being the guy that gets mocked and heckled by strangers. At the very least, you can avoid being the guy in the argyle sweater vest. I can only hope he reads this article.