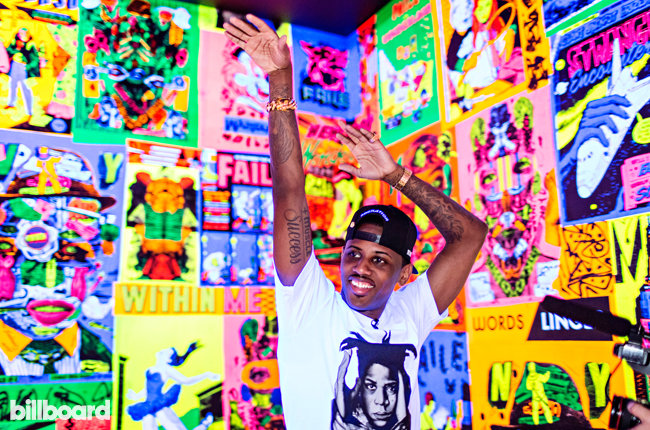 By Adelle Platon | November 26, 2015 6:04 PM EST
Fabolous delivers his first holiday offering with the Summertime Shootout mixtape. The Thanksgiving release finds the Brooklyn rapper serving remixes worth lines of fire emojis and vivid bars that match the pop art theme of the project's artwork.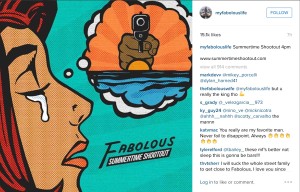 Here, Loso flips recent hits like The Weeknd's "Tell Your Friends" and Drake's "Hotline Bling" (he remixes the names to "Tell Ya Friends" and "Trapline Bling," respectively) as well as '90s classics. On the Nicki Minaj and Trey Songz collaboration "Doin' It Well," producers Cardiak and Critical sample the 1995 LL Cool J slow jam "Doin' It."
Fabolous Talks NBA, Friday Night Freestyle Series & New Music: Exclusive
Fab has been on a steady grind the past 365 since releasing last year's Young OG Project — the '90s-inspired, Christmas LP that hosted the tracks "She Wildin'" featuring Chris Brown and "We Good." He also rolled out a series of Friday Night Freestyles in May.
In an interview with Billboard in January, the social media whiz said that sales weren't his priority with Young OG. "With this project, I'm not looking at numbers or thinking that you got to have singles," he said. "It's a different time in music. All the conventional ways of doing things are old, and you don't need to do anything that way again. You need to find new ways to spark people's interest."
Fabolous: 'Money Does Not Become a Shield for You'
Loso maintains that same attitude with Summertime Shootout by accompanying the mixtape with a visual trailer. His work is not done, though — he will also roll out the Young OG Project 2, due this Christmas (Dec. 25).
Celebrate Fab season with the Summertime Shootout mixtape below.