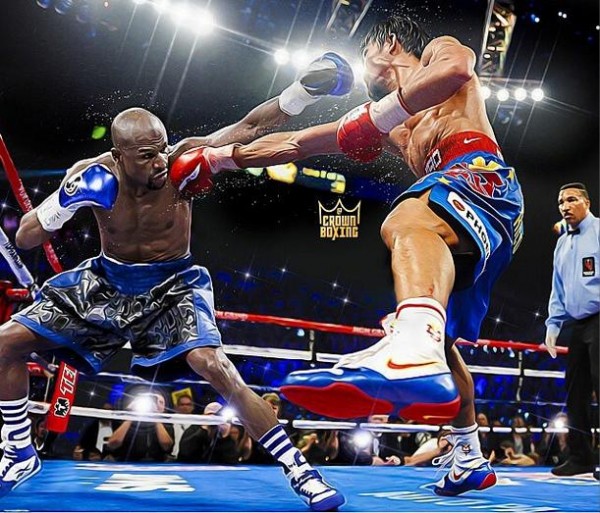 By LANCE PUGMIREcontact the reporter
took more than half a decade to make the fight of this generation.
Floyd Mayweather Jr. set aside a bitter rivalry Friday by announcing that he and Manny Pacquiao have signed to fight each other. The world's top two pound-for-pound boxers are scheduled to square off in a welterweight title unification bout May 2 at MGM Grand in Las Vegas.
A long-awaited date pitting the rapid-moving defensive tactician Mayweather (47-0, 26 knockouts) against the powerful and super-conditioned southpaw Pacquiao (57-5-2, 38 KOs) will be televised on pay-per-view by both Showtime and HBO, and is considered a slam-dunk to become the most lucrative bout in boxing history.
Ringside seats will sell for $5,000. The pay-per-view price has not been set but could reach $100.
The contrasting personalities of the fighters — Pacquiao, 36, the polite congressman in his native Philippines and Mayweather, who'll turn 38 on Tuesday, the brash, cash-flaunting celebrity — were evident in their reactions to sealing the deal.
"I'm very happy this five-year saga has come to an end," Pacquiao said in a statement read by his business manager. "The fans all wanted and deserved this fight and I'm happy we're giving it to them. It is an honor to be part of this historic event."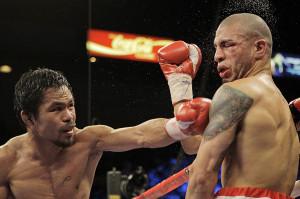 Said Mayweather: "Sports fans around the world will witness greatness on May 2. I am the best ever, 'TBE,' and this fight will be another opportunity to showcase my skills and do what I do best, which is win. Manny is going to try to do what 47 before him failed to do, but he won't be successful. He will be number 48."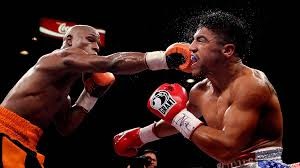 Mayweather will earn 60% of the purse, Pacquiao 40%.
Pacquiao was surprisingly knocked out by Juan Manuel Marquez in 2012, while Mayweather kept winning and kept his record perfect.
Pacquiao's willingness to take a smaller cut of the purse, Mayweather's interest in pursuing the bout,plus the involvement of an effective mediator in Leslie Moonves, chief executive of CBS Corp., allowed this fight negotiation to succeed. Other efforts to put together a Pacquiao-Mayweather bout unraveled over drug-testing and purse differences, along with deep personal dislike between the two sides.
Mayweather turned pro after the 1996 Olympics and was promoted by Bob Arum, who is now Pacquiao's promoter. In 2006 Mayweather and Arum split up and the boxer aligned with powerful manager Al Haymon, who didn't do business with Arum. The pairing of Mayweather and Haymon led to a certain amount "of mistrust," Arum said.
Until now.
Moonves, whose Showtime cable network signed Mayweather to a six-fight, 30-month deal in 2013, successfully brought Arum and Haymon together. One of the talks was a meeting with Arum and Haymon at Moonves' home.
"Part of the thing that was helpful was that we're the network of Floyd Mayweather, and I also have a very good social relationship with Bob Arum," Moonves told The Times. "One of the reasons that propelled me to push for this as a pure boxing fan was that the whole world of boxing would've been disappointed if these guys didn't have this fight. I can't wait."
Arum and Showtime executive vice president Stephen Espinoza said Moonves' presence was the key to brokering the deal.
"The persistence of Les Moonves got everyone talking rationally," Arum said. "Very savvy guy, people inherently trust him, and his presence allowed us to concentrate on core issues. People around this started acting like adults. Myself included."
There was no rematch clause inserted in the contract that Mayweather signed Thursday, before he posted a photo of the final signed page of the cumbersome document Friday in announcing the deal on social media.
MGM Resorts' sports book established Mayweather as nearly a 2-to-1 favorite in the bout.
Now that the fight has been made, Espinoza was quick to dispel the long-held theory by many in boxingthat Mayweather would always avoid Pacquiao, whose knockouts of Ricky Hatton and Miguel Cotto in 2009 triggered interest in a Pacquiao-Mayweather super-fight.
"Floyd has defeated 20 world champions over his career, so nobody can seriously question his commitment to taking on a challenge," Espinoza said. "And as long as Floyd has been with Showtime, he's continually expressed a sincere desire to fight Manny Pacquiao. A victory would leave no unanswered questions about Floyd's position among the all-time greats in the sport."
Mayweather's advisor, Leonard Ellerbe, said, "Floyd loves the matchup. He'll be able to dictate what happens in the fight, and he'll show everyone why he's the best fighter in the world."
Pacquiao's trainer, Freddie Roach, has been breaking down Mayweather fight film since November, when Pacquiao knocked down then-unbeaten Chris Algieri six times in Macao.
"Floyd should enjoy being the 'A' side while he can because on May 2 Manny is going to put him on his backside," Roach said.
Arum has long insisted that Mayweather in the past urged matchmakers to keep him away from fast southpaws like Pacquiao.
"My guy is really going to give Mayweather a lesson in the ring, either by stopping him or by decision," Arum said. "Win, he will."