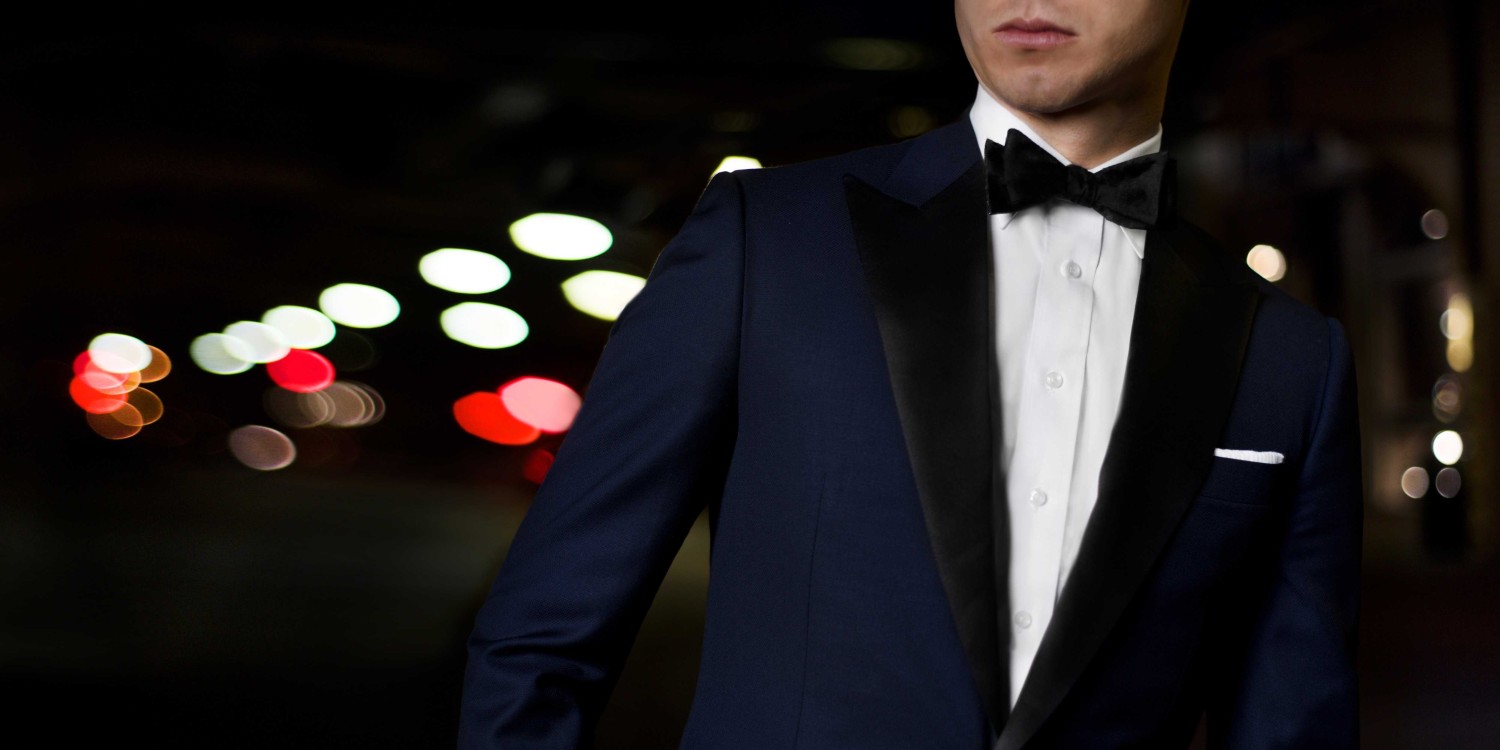 1: Make it custom. Because in this day and age, anything and everything in your closet can be customized. Options range from computerized made-to-measure (i.e., those nifty Web sites that ask you to measure your own shoulders) to full-blown bespoke (i.e., rendered with you in mind from the first stitch). The happiest of mediums comes from Prada: Its made-to-measure program for suits, shirts, et al. is overseen by its team of tailors and craftsmen, who customize the fits and finishes to your liking. In the world according to Prada, the possibilities are practically endless.
2: It is only when a man doesn't have much to say (parole hearings, pool parties, the priesthood) that his choice of clothing doesn't mean much. With options come obligations, and the more options you've got, the more your choices matter.
3: That hat doesn't look as good as he thinks it does.
4: Appropriate is overrated. Rakish is underrated. On-trend is a compound adjective that one must never utter aloud but is perfectly acceptable to keep in mind.
5: In ascending order of degree of rakishness: double-breasted jacket, driving moccasins, silk bathrobe, captain's hat.
6: Except in the event that you are actually captaining a ship, in which case: appropriate.
7: Chambray shirts are the Bruce Springsteen of men's wear: authentically working-class yet looking a bit more polished and respectable lately.
8: Not all blazers are equally versatile.
9: The best-dressed group of men on television right now: late-night hosts (see above). The worst dressed: the walking dead on The Walking Dead.
10: The upper-left-hand quadrant of your torso is your sartorial sandbox. Lapel pins, pocket squares, et al. are all toys for the tinkering.
11: The coworker who occasionally changes into a tuxedo before leaving for the evening is not someone you want to have as an enemy.
12: A stiff wind, an arctic clime, ice falling from the sky: such are the conditions that necessitate the looping/knotting/folding of a long fringed scarf around one's neck.
13: Was an overactive office air conditioner or an inflated sense of self among the conditions that necessitate the looping/knotting/folding of a long fringed scarf around one's neck? It was not.
14: Cell phone: not to be seen nor heard nor brandished mid-meeting to check for incoming texts.
15: Yes, you still have to wear a cummerbund.
16: Small men don't wear big coats.
17: Big men shouldn't wear small coats.
18: You look 43 percent less virile in that selfie.
19: No selfies.
20: Hipsters are the locusts of personal style. They appropriate looks and sensibilities, eradicate all credibility, and then move on, leaving everything behind them a little worse for their having worn them. See: elbow patches, chunky eyewear, monk-straps, fedoras: The list is long and tragic.
21: V-neck collars should not dip below the top of your sternum. Leave the bearing of cleavage to the ladies of The View.
22: The tote bag is the new messenger bag. The messenger bag is the new backpack. The backpack is the new fanny pack.
23: Re: this article of clothing: It is a sweater first, a cardigan second, a cardie never.
24: Potential upside to clothes that actually fit: instant five-pound weight loss.
25: Potential downside to clothes that actually fit: Everything else starts to feel blousy.
26: "Affordable cashmere" is an oxymoron bound to disappoint. Better to invest in lower-cost, thinner, no-less-pleasing-to-the-touch merino wool for your fall and winter sweaters.
27: Rolling lint off one's jacket or trousers, like flossing, breaking wind, and sniffing one's fingers, is best enjoyed in private.
28: The monogrammed velvet slipper is the Samuel L. Jackson of men's style. In the right role: pure menace. Anywhere else: hammy.
29: A pair of jeans, like a baseball glove, gets only better with age. Stiff jeans, like stiff gloves, are useless.
30: The five-pocket pant is the most flattering and functional of all a man's trousers.
31: "All a Man's Trousers" would make for a superb book title.
32: Beware the man who cares not about the following:
Billowy shirt—Instead, try: Slim-fit shirts. (Pay close attention to the sides and the upper arms.)

Unshaped jacket—Instead, try: A jacket that hugs the torso and bottoms out no lower than the base of your balls.

Phantom shoulders—Instead, try: Going down a size.

Overlong pants—Instead, try: Getting them hemmed so that the bottoms of your trousers kiss the tops of your shoes.

Baggy thighs and seat—Instead, try: Straight-fit trousers. (Not skinny, not even slim: straight.)
33: Because we all know better now, that's why.
34: The whole rolling-up-one's-jeans-for-no-reason trendenough.
35: A well-tended beard is not any more kempt or unkempt than a clean-shaven face. It is a matter of comfort and ease.
36: Beards add ten years to your face. This is great when you're 16 and trying to buy beer. It is a different story when you're 42.
37: The zany-sock thing is getting a little tedious.
38: Winter may be coming, but look ye not to Game of Thrones for inspiration.
39: But if ye must: Jon Snow.
40: And if ye must look like Jon Snow, start with Tod's new ready-to-wear line.
41: No pattern on your person: Pair contrasting textures (smooth against rough, flat against raised) to avoid monotony.
42: More than one pattern on your person: better to have them rhyme than to repeat.
43: The floral-print shirt is, metaphorically speaking, the weightiest item of clothing a man can wear. The bolder the flower, the stronger the man.
44: Men who wear ties to the office even though they don't have to are three times as likely to run the office someday as those who don't.
45: Tomas Maier: Remember his name and seek out his designs. For he knows how you want to dress.
46: There is nothing more impressive and timeless than a black cap-toe lace-up Oxford.
47: That said, footwear today provides endless opportunities to distinguish oneself, some more distinguished than others.
48: Rather than shine or width, the new breed of power tie has texture and depth.
49: There is a difference between looking like you care and looking like you are trying. You want the former.
50: Wearing sneakers with a suit will never make you look cool, young, or hip—it will simply make you look like you're trying to be cool, young, or hip, which is only a problem if you're not.
51: If you have to ask, the answer is rarely yes.
52: The only way to answer "Are you really going to wear that?" is "Yes."
53: Unless it's your boss asking, in which case the answer is "I was just about to change."
54: The development of a personal uniform over time and the sense of confidence and comfort that comes with it do not signify an absence of style but rather an abundance of it.
55: Except if it involves a hoodie and shower shoes.
56: Things to keep in your office closet in case of emergency (the above or any other): navy blazer with a soft shoulder and little to no lining, white shirt (ironed), tie, umbrella.
57: Stop thinking about what you should wear and start thinking about who you want to be. Your clothes will fall in line.
58: Because you're in charge of your clothes, not the other way around.