The iPhone is a device many of us carry around and use every day for personal tasks, but with help from the App Store it also has a place in the business world.
Whether you're a large company with employees who have access to iPhones for work, or you're a small business – the iPhone has the potential to help boost your productivity levels.
Needless to say, you'll need the right apps to be able to do so, which is exactly why we've highlighted 10 of our favourite offerings here.
1. MailChimp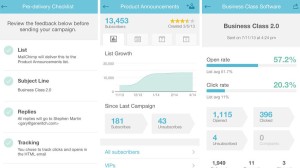 MailChimp is a solid app that tracks your company's email marketing. While MailChimp has withheld many of the features you find on the website, this makes the app easy to use, clean and refined.
The website allows you to create and send email campaigns, but the app is more of an analysis tool, used to check the data and figures. The app from MailChimp displays the percentage of users who opened and also clicked your email – in turn, this data can be used to refine your next email campaign.
The app will also allow you to view your mailing list contact information – you can view new subscribers and those who have unsubscribed, and organise your contacts via groups or location.
MailChimp is a powerful email marketing tool, and although the app only offers a limited set of features, the information and tools provided are extremely valuable.
Price: Free
Download from iTunes:https://itunes.apple.com/gb/app/mailchimp/id366794783?mt=8
2. Adobe Reader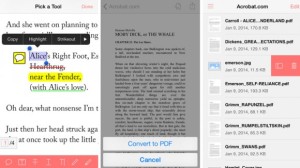 Reader is a great free app from Adobe which deals with PDF format files. This app makes it really easy to import, fill/add, and then export. Adobe Reader allows you to add, highlight, underline, strikeout text, but it also allows for drawing and adding signatures to PDF files. After you have completed all your revisions Reader allows you to send the finalised document by email, or to other apps like Dropbox or Google Dive for storage.
Sign up for a free Adobe account and you can store and sync your documents in the cloud for free. The app also features a Camera to PDF option, but it is only available with a £6.99 (around US$12, or AUD$13) monthly subscription. Overall, Adobe Reader provides a great user experience.
Price: Free (Upgrade for £6.99 – around US$12, or AU$13 – per month)
Download from iTunes: https://itunes.apple.com/gb/app/adobe-reader/id469337564?mt=8
3. PayPal Here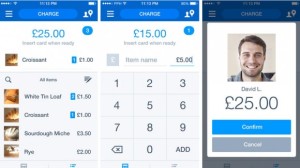 It is more than likely that you will be familiar with the company PayPal. The online payment solution is branching out, and the most obvious example of this is the relatively new app – PayPal Here. Paypal's raise to dominance in online payments was mainly due to the popularity of the online marketplace eBay. PayPal's gradual move into more physical, and subsequently less digital environments is no surprise, and is an obvious evolutionary step for the payment gateway.
PayPal Here requires a physical card reader to function, which can be ordered from the PayPal website for £99 (around US$170, AUD$180) – after this up-front cost PayPal will then charge a 2.75 – 3.40% transaction fee for every payment you accept using the service. This is a small price to pay if your business needs to be able to accept card payments on the move or even at customers' homes.
Price: Free
Download from iTunes: https://itunes.apple.com/gb/app/paypal-here-get-paid-anywhere/id505911015?mt=8
4. CloudMagic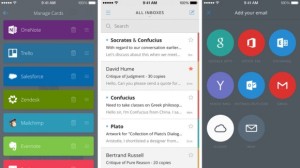 CloudMagic is one of the best, if not the best email client available on the iPhone. It supports up to five email accounts, and it works with Gmail, Exchange, Yahoo, Outlook, iCloud, Google Apps, Office 365 and any IMAP account.
The app will display your individual inbox for each of your separate accounts, along with a combined inbox to view all your mail. The app colour codes your accounts so it's easy to identify which account the message has come from. Where the app becomes a more business focused tool is in its ability to allow you to complete all your work right from the inbox. Salesforce.com, Zendesk, Pocket, Evernote, OneNote, Trello and MailChimp are all integrated into CloudMagic.
Price: Free
Download from iTunes: https://itunes.apple.com/gb/app/cloudmagic-free-email-app/id721677994?mt=8
5. Splashtop Business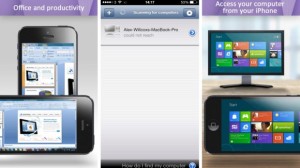 The Splashtop Business app allows you to access your work computer from your iPhone. Effectively, the app turns the iPhone's screen into your computer screen which you can access from anywhere. The clean interface is simple to use, and although the remapping of the keyboard and mouse is tricky at first, it soon becomes second nature.
To allow this app to open, run, and edit files located on your computer, you will first need to download and install the Splashtop Download Streamer on your PC. Once downloaded there is a simple onetime set up, but after that, as long as both devices have a good internet connection, you'll have access whenever you need it.
Privacy concerns are reassured by the 256-bit SSL encryption the software provides, making Splashtop a must-have app for businesses that rely on software which is not available for iPhone, but need their data to be secure.
The business package from Splashtop is reasonably priced at $60 per user, per year (around £35 or AUD$63). Note that if you're only planning on personal use it is worth checking out Splashtop 2, which sports many of the main features for only £11.99 (around US$20, or AU$22) a year.
Price: Free (Requires £35 yearly subscription)
Download from iTunes: https://itunes.apple.com/gb/app/splashtop-business-remote/id650739354?mt=8
6. CamCard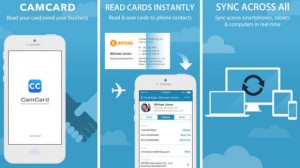 CamCard is a great app for people who often meet and greet new clients or other business associates. The CamCard app is designed to help manage your business contacts using its main feature – a business card scanner.
CamCard separates your business and personal contacts via the app, and it creates a separate address book, although the contacts are still saved and are findable without the app. CamCard uses the rear camera on your iPhone to take an image of a business card, then this clever app analyses the image, extracts the text, and auto fills the content fields ready for you to save the new contact. If the contact you are saving has a CamCard profile with updated or more detailed information, CardCam will save the newer details into your address book.
CamCard also allows you to send or receive contacts from others easily. You can also generate QR codes or find nearby contacts to exchange profiles with. With all of this functionality it's easy to say that this is one of the best business contacts apps available in the iTunes store.
Price: Free (or £0.69 without ads)
Download from iTunes: https://itunes.apple.com/gb/app/camcard-business-card-scanner/id347803339?mt=8

7. Onavo Protect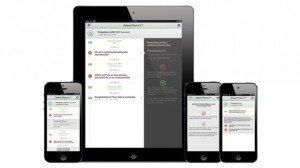 Onavo Protect is one of a series of apps from the Onavo brand, and it helps keep you and your data safe when you browse and share information on the web. The app helps keep you safe from the likes of phishing and unsecure mobile websites. It also helps secure your details when you login to websites or enter personal information such as bank accounts and credit card numbers.
The service will prompt you to download a profile onto your iPhone, and this profile will redirect all your mobile traffic via the company's secure servers. These servers will flag up any issues detected regarding your privacy and safety, block potentially harmful websites and add an extra layer of protection to all of your mobile data traffic.
If you're happy to redirect all of your mobile data via the company to ensure your security and peace of mind when surfing the web, then Onavo Protect is the perfect app for your business.
Price: Free
Download from iTunes: https://itunes.apple.com/gb/app/free-vpn-onavo-protect/id577491499?mt=8
8. LinkedIn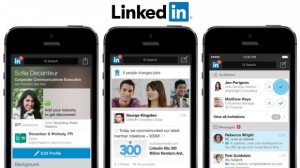 LinkedIn in a well-known business social network, aimed at keeping you connected with family, friends and colleagues in a career-focused setting. The platform provides you with the ability to create an online CV, and relies on other members endorsing your skills – creating a socially verified page that can be shared with potential business partners. The same applies for businesses; they can add themselves to the site and create new business links, follow industry leaders, join groups and increase exposure.
The site works on the principle of six-degrees of separation. Once you have built up a foundation of known connections, you should be able to find the person or business you need by passing through your contacts' connections. This also makes the service perfect for finding potential employees as you are able to see references from previous employers. Throw instant messaging into the mix and you quickly realise how powerful a business tool LinkedIn really is
Price: Free
Download from iTunes:https://itunes.apple.com/gb/app/linkedin/id288429040?mt=8
9. Facebook Pages Manager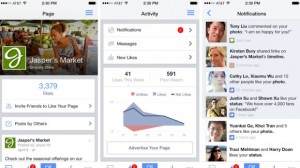 If you honestly have not heard of Facebook – where have you been hiding? The biggest social network on the planet has catered for businesses for quite some time, and is probably the quickest and easiest way for your business or brand to gain instant exposure online. You can use Facebook to reach out to your customers and target your audience, and consolidate everything your brand does online via your Facebook page.
Use the Pages Manager app from Facebook to update your page with posts or images like any other Facebook page, but then you can use the Insights tool to analyse and grow your brand online. It's also possible to expand your reach and compare your organic versus paid statistics, or analyse Link Clicks, Photo Views and Video Plays.
There is no denying that Facebook is probably the most powerful tool in terms of exposure, interaction, and growth when building a brand online.
Price: Free
Download from iTunes: https://itunes.apple.com/gb/app/facebook-pages-manager/id514643583?mt=8
10. Percentage Calculator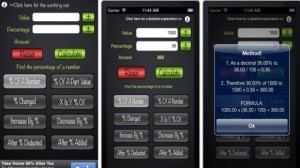 The Percentage Calculator does one thing, and it does that thing very well. The app allows you to calculate the percentage in a variety of situations, for example 'Increased by %' or 'After % Deducted', and makes it completely straightforward to do the math.
The app works with positive and negative numbers, and with the eight different ways of calculating percentages featured within the app, you should never be stuck when working out the figures.
Price: Free
Download from iTunes: https://itunes.apple.com/gb/app/id507448496