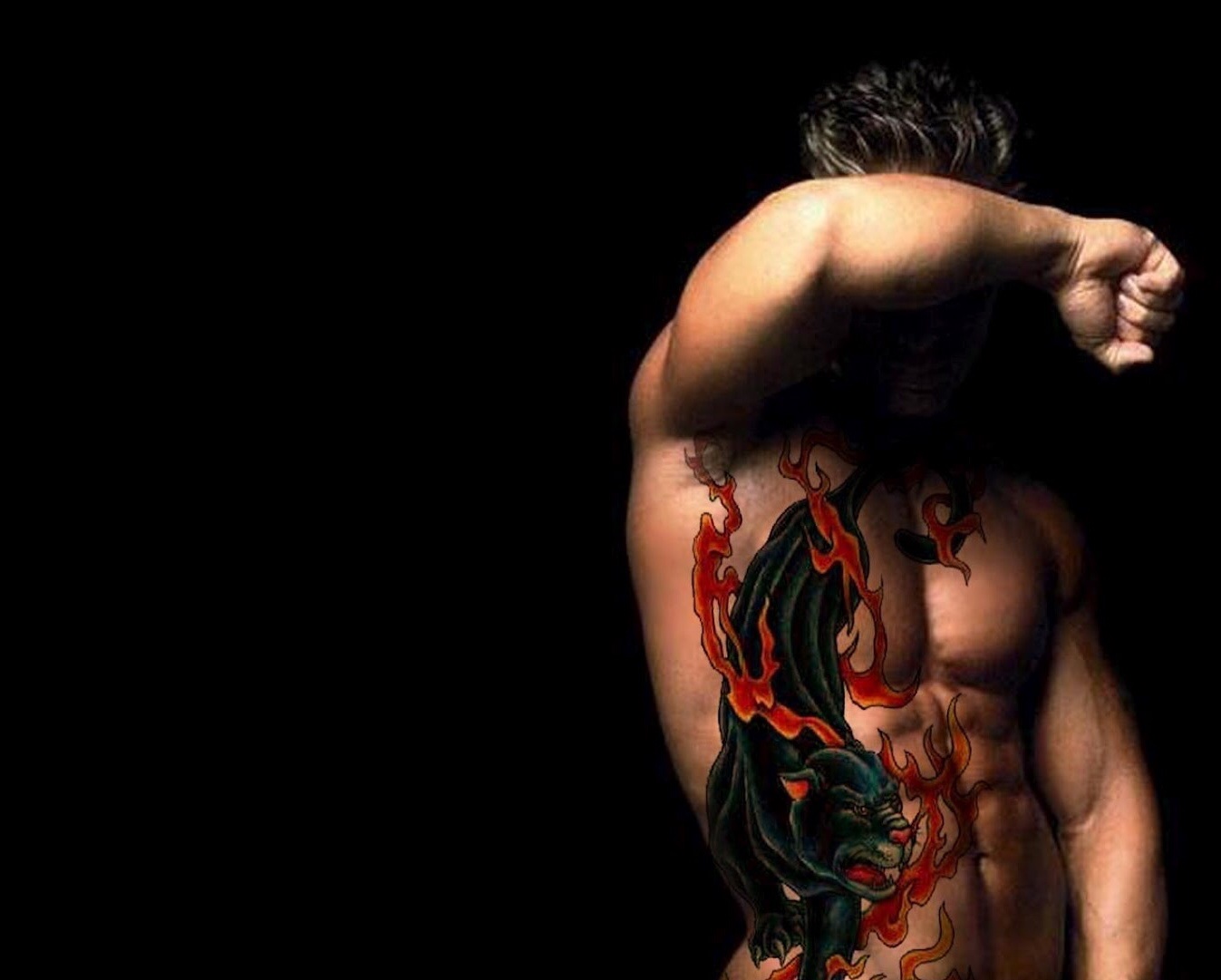 These 5 sexy tattoo spots for men are sure to leave their memorable mark on anyone lucky enough to see your skin.
Tattoo placement is just as important as design selection yet many people turn their heads and roll up their sleeves opting for traditional tattoo locations.
Sure, armbands are classic and bicep tats are tough, but why not explore a few more suggestive parts of your body? Painful perhaps? Consider it pleasure. Your body has definition that begs for attention. Let's take a peek; have a seat and unbutton.
1. Back
If you're ready for a sprawling tattoo design your back is where it's at. This tattoo spot is perfect for the guy who likes to take off his shirt, you know, on the beach or during an active run outdoors. Back tattoos are the key for a creative canvas and pretty much allow for endless design inspiration. Buildings, fantastical or horror scenes can make up some dark play on your back whereas mythical Phoenix and spiritual sun designs create a colorful canvas. Start small or add to your mural over the years. Back tattoos will need lots of sunblock, so lube up or cover up to keep your ink bold.

2. Hip
The lower hip is a suggestive area that hits quite close to home. A small tattoo can fit well in this area, making it a secretive and erotic spot to ink. Lovers names, personal oaths and symbols are befit for this location. Consider black ink tattoos, crosses and small astrological symbols for sexy design inspirations. If you made her a promise you can wear it here in the form of a Claddagh or scripted verse. If you play for the same team you can display your pride with a rainbow tattoo or the Greek Lambda symbol signifying your own liberation. This tattoo is for certain eyes only, so go ahead and spill a few secrets.

3. Chest
There's a basic rule for chest tattoos; make them grand. While classic design tattoos for this broad spot include hearts, old school images and banners, you can pretty much ink whatever you want on your chest. Think of something massive and masculine like a ship, a crest or a portrait design. Take a long time and visualize what really feels right on this area. A tattoo should feel like a natural enhancement to your body and should have some sort of meaningful connection, especially if you bare it on your chest.

 4. Leg
Go ahead and show off your build with a thigh tattoo sure to make her cringe with delight. Leg tattoos can build upon your muscular frame, so hit the gym and then your artist's chair for a piece that's well placed on your upper thigh. For something powerful, thrust a fiery dragon on your leg or opt for a tribal piece. For lower calf locations, consider ships, flags, portraits and pinups designs that can wrap around or stand alone.

5. Penis
You put a tattoo where? Oh, right there. An in-between or around the scene suggestively placed genital tattoo flames with sex appeal. Hot ideas for this erotic spot include designs that incorporate a "trunk" theme such as an elephant or even a snake or sword design. This hypersensitive area is off-limits for many tattoo artists so you'll need to shop around and find a skilled and trusted professional for your genital tattoo. Of course, make sure it heals properly before it comes out to, you know, play. When paired with a Apadravya penis piercing, a genital tattoo can be the ultimate companion for Kama Sutra pleasure. Now go get inked somewhere sexy.
No Image Necessary